October 17th, 2014
By Ali Baylay
A Golden Effect Production Presents: Ramsey Noah (Femi), Kunle Afolayan (Sola),  Omoni Aboli (Mona), Funlola Aofiyebi Raimi (Linda),  Tosin Sido (Lara). Story Concept,  Jovi Babs; Screenplay, Kemi Adsoye; Director of Photography, Yinka Edwards; Editors, Sodiya Koyode Adeleke; Director, Kunle Afolayan.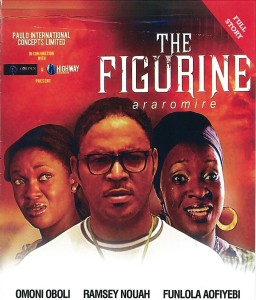 To review Figurine, I asked myself so many times if I was doing the right thing. To me, considering all the respect accorded this movie by the African film world at the 6th edition of AMAA, in Yenegoa, Bayelsa State: Ramsey Noah, best actor, best cinematography, best visual effect, best picture, and best heart of Africa.  Any ravaging review of it will be like going against the grain of the Nollywood  establishment. But what the heck! I must quote Satyajit Ray, on filmmakers:
"…once the making (of film) is over, the sense of power evaporates and helplessness creeps in. He,  (producer/writer/director/actor) realizes that he is not only answerable to critics, which all artists are, but to the faceless millions who form the public pulse…."And to rob it in further, William Wordsworth, on reviewers says, "Our meddling intellect /We murder to dissect." So here I go!
When I see Ramsey Noah, in a film, I'll tuck myself comfortably in the couch, looking forward to an evening treat. He is my George Clooney and Jack Nicholson bundled up into one. He could be a Mafiosi don at once in one flick, a prince in another, and a sadist in another, like we see Nicholson, in "one Flew Over the Cuckoo's Nest, or as we find bloody Ramsey in "Figurine".
In "Figurine", Femi (Ramsy Nuah),  his buddy Sola (Kunle Afolayan) and his buddy's wife to be Mona(Omoni Oboli) win a place on the NYSC training camp, and while on training, his friend or both he and his friend, stumble on a buried Demon, which they take home with them after the training. Shortly after, and mysteriously too, they who had been rejected and dejected by friends and society at large, become prosperous overnight: Ramsey gets a job that sends him abroad, comes back home free from asthma, and speaks with a cockney accent, and his manners, with the subtlety of a cat. His father too is cured of disease that had been consuming him. His friend on the other hand, gets married to the woman of his dream, have two children and a waterfront mansion. Both their prosperity lasted seven years and things, I mean their luck start to spiral down, and down and not only to where they were before the riches but went far beyond unto their graves.
"Figurine" is a well written tragic story and finely produced so. Ramsey's character is a bomb, and his sidekick is a bomber too. Beauty is not hard to create and come up with in front of the camera: immaculate wardrobe, nose and face powered as the camera and makeup artist will see it fit, good lighting, we're good to go. What matters is the screen presence we seek in the actors or actresses. Ramsey gives the film a believable screen presence and even held the fragile plot together from spinning out of control.
The end of "Figurine" has a one liner post script: 'Do you believe?'
Now that's an ethical question this script throws at us, we all, the audience, critics and philosophers. In the first place I personally won't believe without reason.  Two reasons I don't believe in this movie:
The plot line flaunts with our intelligence here: We are introduced at the beginning of the film to Ramsey Noah as a bespectacled looney with the features of a maniac in the making and at the camp, by the bonfire, sitting on a mound,  looking straight across sadistically at his friend's intended wife, you sense something menacing about this character. As a viewer and so engulfed in the story line,  I expected the plot to have solely developed his character on that line, to the point when he shall have wrapped up  a bloodied human head in white satin, and leave it at the door of his friend's honeymoon pad, and after that, go on the rampage, kills everybody standing between him and his friend's wife, Mona. He then would  take hemlock or a dagger into his chest just where the heart is,  and life would go out of him  at the foot of his friend's marital bed while the love for which he goes through all this lie safely asleep. That would have been tragic for viewers  to experience. A Roman tragedy.
Two, there should have been an obligatory scene with a controlling conscience, where Ramsey would have defied the demon and fight him like David fights Goliath. As external conflict in drama, and as experienced from reading Homer's Iliad, we learnt that humans can fight non humans and win. Ramsey as the only surviving character would have taken the challenge. He should have rallied other gods on his side and the story would have been war between the gods as we experienced during the Trojan War.
Or better yet, read what the producer left for us as synopsis of the story at the back of the scabbard: Three friends were posted to a remote village for their youth service, but curiosity leads Shola to take with him the deity of the land with the idea that it was only a sculptor. Will he heed the advice of Femi and return the long worshiped deity of the land of Aroremide or keep it and face the consequences of the angered goddess of Araromire?
To let the demon play a character by itself, and we are told from the onset what this demon is capable of and we see it happening by changing the lives of Femi and Sola and their families.  We see  how  Femi's father is miraculously  cured, how mysteriously Femi's asthma goes away and all this in seven years. His friend Sola goes through same:  beautiful wife, good life, two kids and a house on the beach, all in seven years. Just as  the prophecy could have it, their good fortune hold until the seven years is over and we look forward to seeing if the prophecy of the demon could come to pass. That's what an excellent script would have done for us so we can believe.
A good story is believable. To achieve that, there should be a logical cause and effect sequence and in the end, present a probable cause and probable resolution.
For Ramsey to lamely confess on camera and to the audience with a bloody hands, that he has been the sadist behind the demonic happenings in the film is so contrived and convoluted. I can accept the fact that he killed his friend because he wants his wife, or backhanded a girlfriend to death  with a fake demon , but these too would have been done, I believe, under the spell of the demon. To me the demon is the star player in this film and would have won at least a libation (accolade) at the shrine of the goddess Araromire.
This beautiful drama shoots itself in the foot, my friend.