April 26th, 2010
By Ali Baylay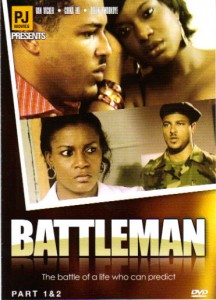 Starring: Van Vicker, Chika Ike,Queen Nwaokoye; Screenplay: Tchidi Chikere; Make up: Kingsley Godwin; Costume: Chinela Nwagboso; Editor: Nelson Joe; Director: Tchudi Chikere; Producer: Paul Ejike Afube; 124 mins C 2010.
Austin (Van Vicker) gets home from war torn Liberia amidst joy as he's welcomed home by both his wife Laura (Chika Ike) and little son. He's been gone two years now. His son has grown and Laura's libido gone amok. In the bed room the first night after two years, Laura's disappointed when Austin doesn't want to have sex with him:
LAURA
(In shock)
It can't be this bad…Can it? I'm your wife!
AUSTIN
(Begging but firm)
Not now.
[Read more...]